Offline Aadhaar eKYC Solution enables all organisations to take advantage of Aadhaar eKYC service without having to go through the process of KUA registration. The service is available for all organisations of any size.
How Offline eKYC Works
Offline Aadhaar eKYC Solution is a cheap alternative to Aadhaar eKYC that any company can use. UIDAI has provided a website for Aadhaar holder to easily download their KYC data securely and share it with companies for account opening. The process of offline eKYC is shown in the figure below.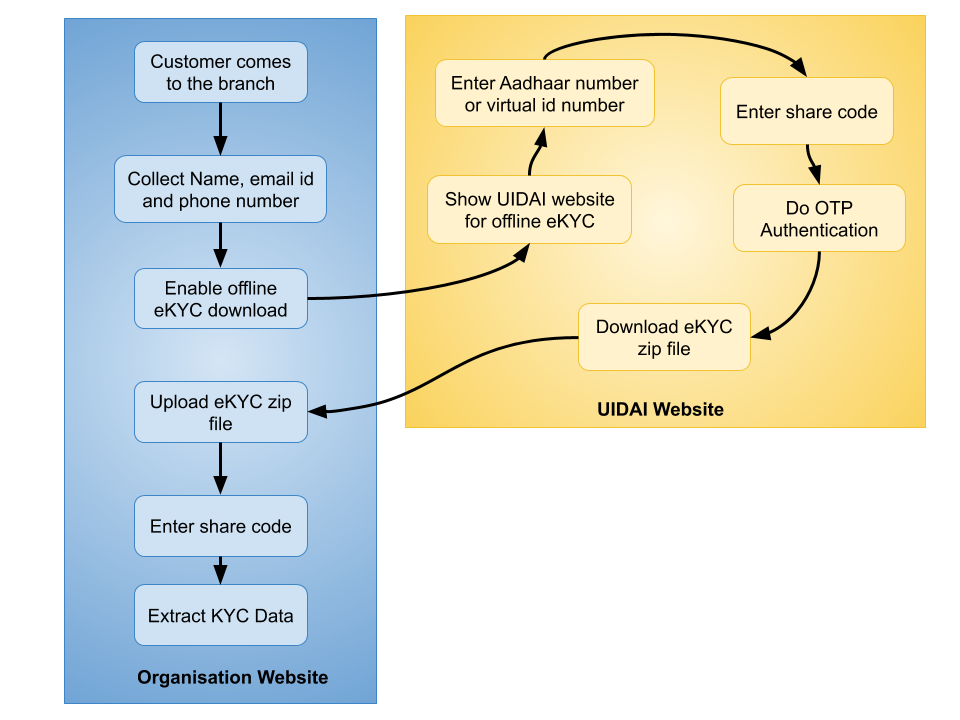 Contact Us
Please get in touch with us for any queries regarding our Offline Aadhaar eKYC Solution.
Offline Aadhaar eKYC Software Package
Offline Aadhaar eKYC Software Package provides a set of web-based and mobile applications that enables them to use Offline Aadhar eKYC. The software allows the extraction of the eKYC XML from the uploaded password protected zip file, validate the XML signature to ensure that this is signed by UIDAI, perform data validation to ensure the name and personal info provided matches the KYC info and store the KYC document. The parsed KYC data is made available via REST API and can be used for prefilling account opening forms or any other purpose.
Advantages
Highly Cost-Effective Solution
Offline eKYC Solution enables companies to implement Aadhaar eKYC without following the costly process of registering as a KUA, procuring the HSM and other IT infrastructure.
Mobile and Web based Solution
Finahub's offline eKYC solution provides both mobile SDK and web-based solution that can be easily incorporated with your existing application.
Fully Compliant eKYC
Offline eKYC Solution is a UIDAI Complaint solution that adheres UIDAI guidelines for using Aadhaar Data. Offline eKYC is accepted as a valid KYC document by RBI, SEBI, IRDAI etc.
Rest API
A full-fledged REST API allows easy integration of eKYC process with an existing application. The KYC data can be easily pulled from the offline KYC data stored in the database. This data can be used for many purposes such as prefilling application forms, cross-validate existing customer data
Server Based Solution
Offline eKYC Solution is server-based software that works with web and mobile client applications. This allows for centralised management of digital signature verification, parsing and data validation logic
Transaction Logs
The central server keeps track of all the eKYC transactions that have occurred across the organisation.