e-KYC solution from Finahub is a turn key solution that helps business houses to take advantage of the Aadhaar based KYC services provided by UIDAI. The solution makes implementation of e-KYC services hassle free and efficient.
Finahub provides consultancy services to take organisations through the Authentication User Agency (AUA) and KYC User Agency (KUA) registration processes as prescribed by UIDAI. Fianhub will act as the liaison for your registration process with UIDAI and take you through the registration process without any hassles. Finahub's consultancy service covers both business process re-engineering and technology deployment requirements of a Aadhaar authentication and e-KYC service implementation.
e-KYC Aadhaar service will enable individual customers to authorize service providers like banks / stock brokers / insurance providers etc. to receive electronic copy of address proof and their proof of identity. As this is a real time solution, business houses can provide instant on-boarding services to customers as their KYC details are verified and retrieved from UIDAI server in real time. The service can be accessed via hand held devices too. This enables on-boarding of customers at customer premises itself.
Aadhaar eKYC Service Implementation Check list
Check outcheck our Free Check List to guide you in implementation of the Aadhaar eKYC service.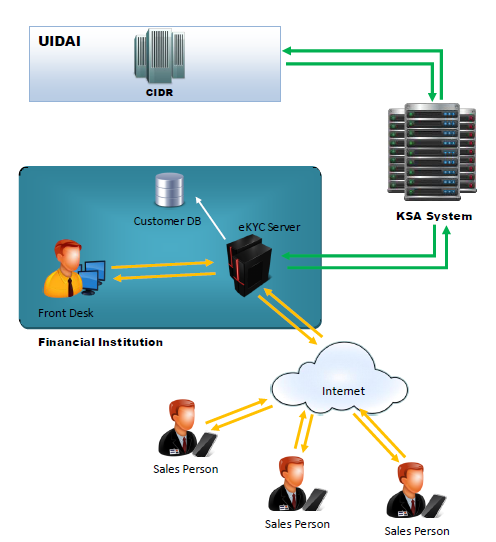 Contact Us
Feel free to get in touch with us if need any help with Aadhaar eKYC service implmentation in your organisation.
Finahub's eKYC Software stack consists of UIDAI compliant web client for Aadhaar eKYC and authentication using fingerprint scanning and OTP modalities, BFD cleint and KUA server. The KUA server is a full-fledged server solution designed and developed ground up according to the guidelines laid down by UIDAI and with due consideration for requirements such as scaling, multiple concurrent request , security, server management client management and ease of integration. The following block diagram shows a high level overview of the architecture of the KUA server.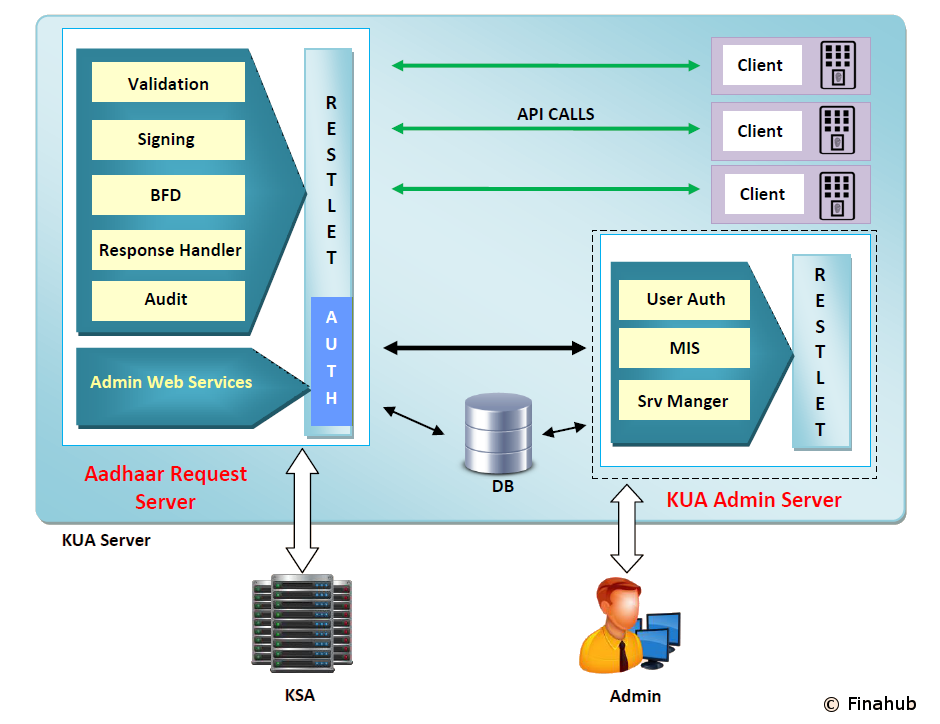 Advantages
Highly Configurable
Finahub e-KYC solution is designed to be highly configurable , so that integration with any existing Customer Information Systems will be easy.
Compliance and Audit Ready
Finahub e-KYC solution is compliance and audit ready as per the norms of UIDAI. So you dont have to worry about UIDAI compliance regulations.
Secure Inhouse Server
Our Finahub e-KYC server resides in your premises and will communicate with your other systems through highly secure (SSL) channel, there by making your data communications safe and secure.
Highly Scalable
Finahub e-KYC solution can be scaled in accordance with the growth of your business. The server instances can be increased or decreased based on business volume.
Fraud Detection
The Finahub e-KYC solution has inbuilt Fraud Detection mechanism present which will trigger in case of any suspicious activity.
Onboard your Customers in Minutes.
With the help of Finahub e-KYC solution you can complete the entire onboarding process within minutes from customer premises itself using handheld devices. Save your customers from the hassles of paper work and provide a better onboarding experience.